The Dirt Issue
Slag Heaps
Protecting the Ecology of Post-Industrial Pollution
When looking out onto the landscape of Hainaut, straddling the border of France and Belgium, one can observe an undulating skyline. Though this may seem like the effect of any ordinary rolling hillside, this sloping horizon is entirely manmade.
Since their first construction during Europe's Industrial Revolution, slag heaps have been considered waste. Etymologically ostracized and rejected, the term inspires disgust, impurity, stench and insult. The French word for slag heaps "ordure" literally translates to "garbage" and is often used in place of "bastard." It reveals our will to perpetually exclude waste from our lives, its mere existence representing a sullying of our own image.
We are writing from the Charleroi, in Wallonia—home to more than 30 slag heaps. As such, it is one of the best places in Europe to see how unbridled industry can transform a landscape.
Yet, slag heaps also represent a multidimensional space, where cultural activity and a new nature can inhabit the land together. Over the years, many of these mounds have become home to a unique ecosystem, created by the inversion of the Earth's layers, new biotypes developing from the overturned soil.
Transformed from industrial waste to fertile output, slag heaps can be seen in a multitude of ways, continuously shifting with not only the natural landscape itself, but how we might envision our relationships with the environment. We're here to tell you that story.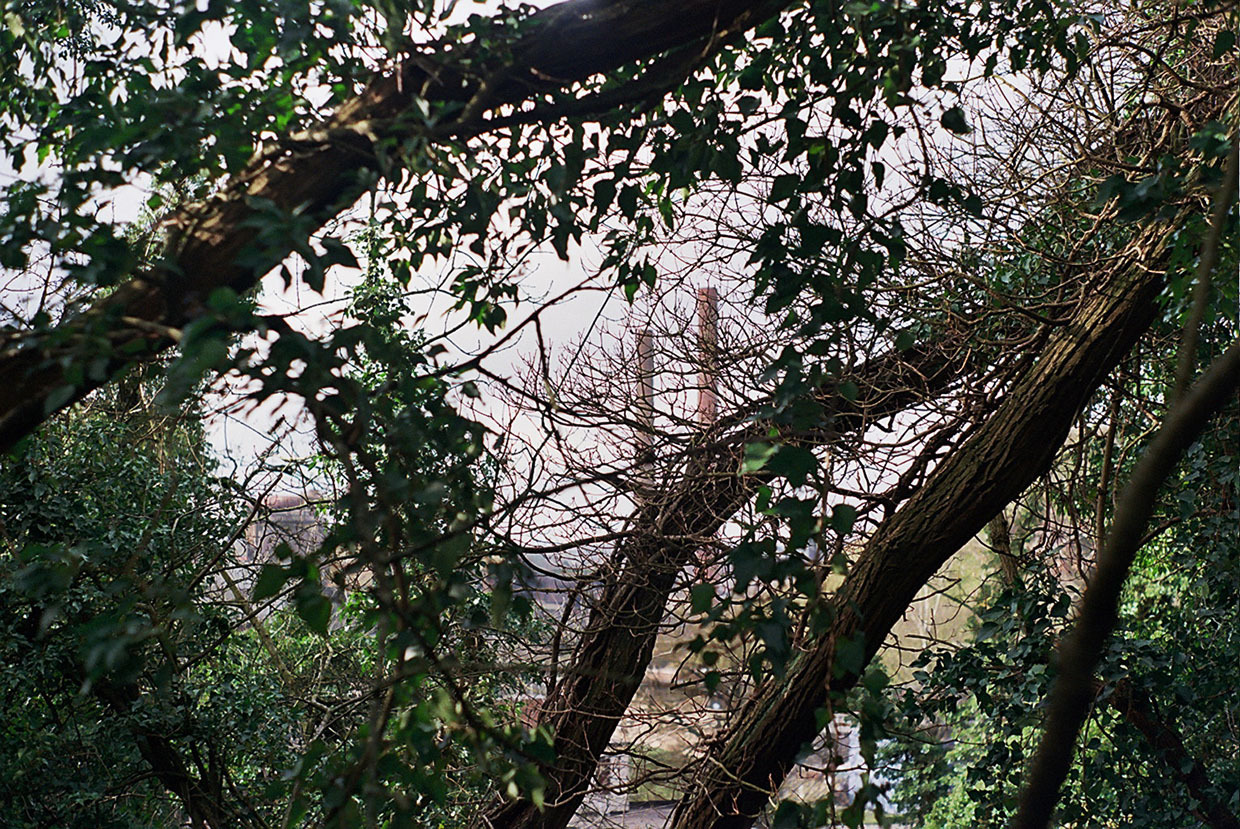 I. Slag Heaps and Nature
In 1911, a new law was enacted in Belgium calling for every coal mine in the country to "green up" their inactive slag heaps¹—mountains of refuse, mining waste, and shattered rocks built up as a result of unrelenting extraction that tore through the coal-rich countryside. But poor soil composition, largely inhospitable to plants, meant very few slag heaps were actually able to be remediated at the time.
By 1971, about 300 slag heaps remained in the Hainaut region, together representing approximately 489 million cubic meters17.2 billion cubic feet of mine waste². Some slag heaps were later exploited again by mining companies to extract coal leftovers. Others were used up as makeshift highway embankments. The rest continue to rise today—overlooked in the hand of private landowners, cast aside for safety reasons, slowly decaying from lack of maintenance. They will likely remain for a long time to come.
There are many dangers that lie within the post-industrial landscape. Shale and coal leftovers, mixed with water, can create exothermic reactions in high heat. As a result, the inside of the slag heaps can "burn out," releasing toxic fumes to the surface. The dark color of slag heap soil also absorbs massive quantities of heat, with temperatures regularly reaching anywhere between 110°C to 699°C230°F to 1290°F just 88 centimeters35 inches beneath the heap's surface.
In Charleroi, landowners' and the city's complacency regarding slag heaps have made it so that large areas of land in the Belgian countryside are still barely accessible to the population. Today, many citizens are committing to fight for the re-evaluation of these abandoned areas, finding hope in the post-industrial decay.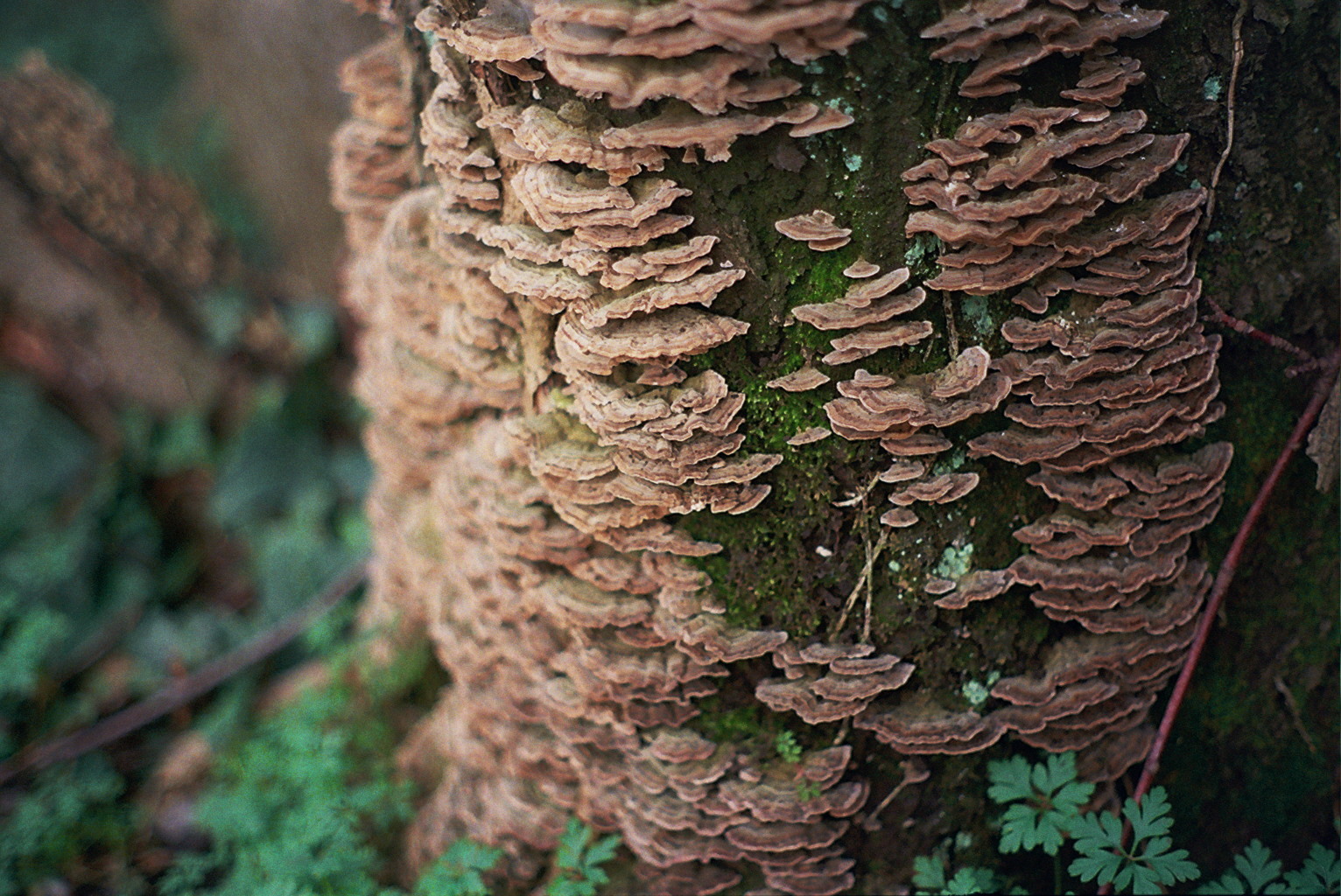 II. The Metamorphosis of a Pile of Waste
For the people who live near them, slag heaps have changed the way we see our environment from a morphological, cultural, and structural point of view. They are an ever-evolving habitat, the result of both human and natural actions that follow and complete each other into a truly unique landscape. To us, the piles of rock and decay have become part of the territory, a testimony of shifting cultural and environmental values. They represent the evolution of an artificial habitat left to the hands of time—the embodiment of memory, of the give and take of people and planet.
The shape a slag heap takes is dependent on several factors: the surface of the field in which spillage occurs, the loading techniques used to spill soil and detritus onto the landscape, the will of its makers to shape stable banks.
Before the Industrial Revolution, most slag heaps were no more than insignificant little clods. In the 18th and 19th centuries, the makeshift industrial landfills were rounded, many reaching just 10 meters high. They grew and grew as demand for coal flooded the region. Then, with the decline of the coal industry in Europe in the 20th and 21st centuries, mines were shut down, filled in, abandoned. As a consequence, cities like Charleroi were left overrun with waste piles and slag heaps—like abandoned corpses, depleted.
By the end of the 1960s however, concerned citizens formed the first citizen committees aiming to preserve the forgotten mountains. They advocated for protecting the new natural vegetation that now grows on slag heaps. In fact, today, ecological, environmental, and historical readings are the principal field of research regarding these earthen artifacts. As a result, many of these waste mounds have since been classified as protected sites and can no longer be part of any resource exploitation. Instead, they have been transformed into semi-natural habitats, hosting a unique biotope. Many have become a place for a promenade and leisure for inhabitants and visitors.
In 1994, the Department of Urban Development in the city of Charleroi published a groundbreaking study titled: "A Promenade in Charleroi: Slag heaps, parks, woods, erstwhile quarries, etc." In it, one can find a vast array of meandering pathways, guiding would-be adventurers through former sections of railways, unused country roads, alleyways, slag heaps, and towing paths. These new promenades embody sites of urban exploration, the verdant heaps helping to shape a new vision of the city, where tourists can follow the footsteps of the town's steel and mining industry. In 2013, Martine Piret's project on the valorization of slag heaps underlines the importance of these "mountains" in Charleroi's landscape identity³. They are now a main attraction on lists of what to see and do in Charleroi, first for their unique viewpoints and, second, for the natural areas they host. In 2016, a free map was published and distributed in many places in Belgium, touting its natural, historic, post-industrial appeal. The map includes topographic information, artistic installations, and noteworthy viewpoints of Charleroi and its surroundings.
Slag heaps are more than monuments of industry—they also represent geographic and imaginary places for Charleroi's inhabitants and visitors. According to philosopher Michel Serres, who once mused on the topic, what was once the dirtiest place in the city since has become one of its most natural parts. Slag heaps, without a doubt, are imbued with a heritage that perfectly illustrates the notion of ecological "inversion," i.e. the transition from "dirty" to "clean."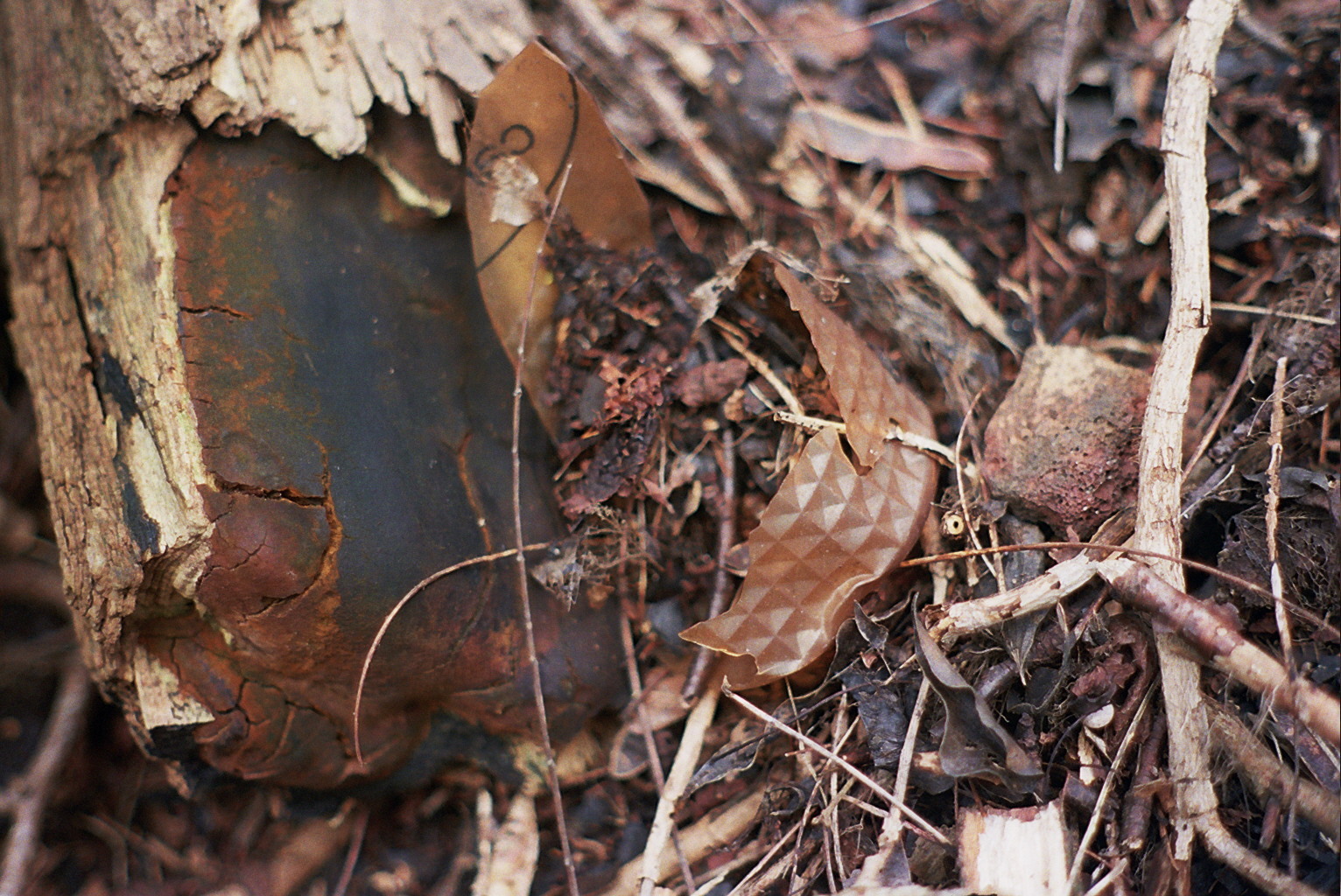 III. The Tip of the Iceberg
Time, as well, has been a significant factor in the transformation of slag heaps throughout the 20th and 21st centuries. As nature continues to take its course across the artificial monuments, it has repossessed and reshaped the landscape in innumerable ways.
Today slag heaps represent a mixed and hybrid landscape, where different representative elements of territory interconnect as a homogeneous whole. Reminders of a forgotten era—witnesses of bad conscience for some people, Still, many slag heaps have a precarious status, as no protection measures have been taken by regional institutions to do so. In Charleroi's case, most of the city's slag heaps are still on private properties. Some are intended for real estate projects. At the present moment, the abundance of abandoned waste is one of the most important issues we need to overcome. Yet the city is unable to provide the financial means to clean and maintain slag heaps to be pleasant places to explore. In the meanwhile, some are used as advertising displays. Change is meant to come, but for now no real actions have been initiated.
The will to patrimonialize slag heaps raises some important questions: What to do with this remaining waste? And how to transform them without wiping out the sordid history of its mining past?
As mentioned by F. Joulian, slag heaps have become metonymic pictures of the world to repair⁴. The nature/industry hybridization stated above is still an abstract concept. In the meantime, many are trying to erase the image of industry for the benefits of a fantasy universe of touristic, tertiary, and green activities.
Industry is, however, a hallmark for communities like Charleroi. Its status can be disturbing and problematic. However, industry was not an unintended accident on the landscape. It is in fact, a consequence of human activity, ambition, and ingenuity. We cannot examine these sites outside of the context of nature or history. This is what slag heaps are all about –from the transition of dark, abandoned waste piles to areas of high ecological quality that are now driving the collective imagination of a city and its inhabitants.
To ensure slag heaps' future, they need to be recognized, protected and nurtured. Waste management should be organized by its users to avoid compromising the preservation of biodiversity that now lives there. Slag heaps can't be covertly patrimonialized. Their history cannot be forgotten. Their heritage lies in the materialization of what they truly are: a fascinating era in the history of men and wealth exploitation.
Thankfully, a large part of Charleroi's community is still committed in the fight to preserve the condition of these monuments. People's interest regarding slag heaps is now expanding out beyond the city, urging the general public to come and contemplate the beautiful results of post-industrial pollution.
---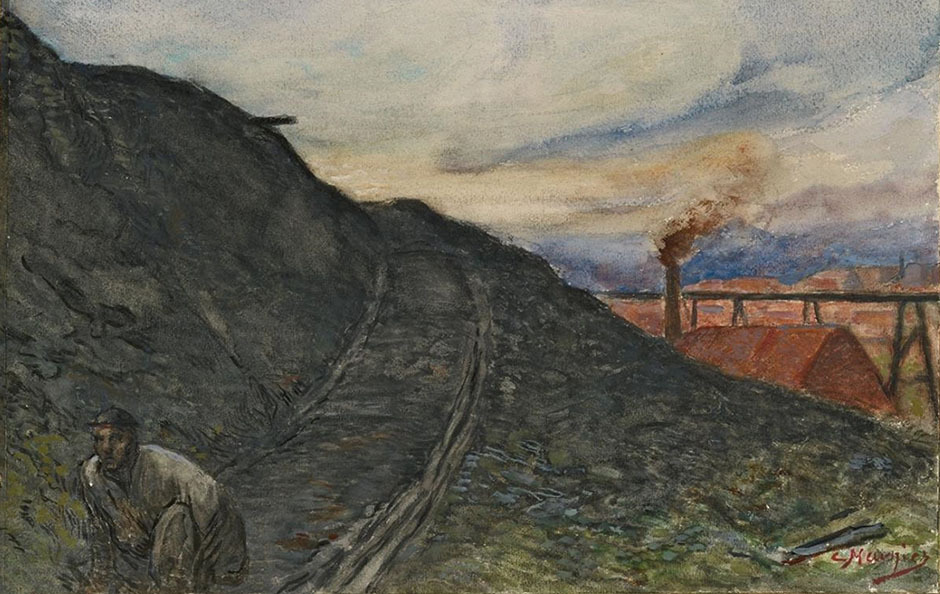 CITATIONS:
FURTHER READING:
Marion Henry is a design graduate from Université du Québec à Montréal and is currently completing her master's degree at ENSAV La Cambre. She is co-founder and Editor of Echelles magazine.

Brunella Danna-Allegrini holds an undergraduate and masters in Archeology and Art history from the University of Provence, as well as a second master's in Urban Sociology from EHESS in Marseille. Brunella manages, l'Artothèque de Wolubilis, a cultural space in Brussels.
Lead image: Christophe Vendercam, 2012 via Wikimedia Commons.
Photography courtesy of the authors.
Paintings by Constantin Meunier (1831-1905)––a Belgian painter and sculptor known for elevating industrial workers into icons of modernity in the late 19th Century. His work, spanning several mediums, helped define the period's social-realism movement in Europe, representing a compassionate and committed view of man in the world.