The Lake Issue
Visions of Lake Success
Inside the toxic plume threatening Long Island's water supply
On February 18th, 2016, New York Governor Andrew Cuomo launched a $6 million plan to study the groundwater on Long Island in collaboration with the U.S. Geological Survey. The plan: to identify and address a variety of drinking water concerns across the 105 mile-long, 23 mile-wide stretch of suburbs, which is currently home to 254 state and national superfund sites.
According to local environmental officials, there hasn't been a study like this done in years, despite the fact that experts have been warning about a serious decline in drinking water quality" across Long Island since at least 2012.
In his announcement, Cuomo called to mind Flint, Michigan as a poignant symbol of why it was important to act now, not later, on ensuring that local supplies of clean drinking water stay safe. But instead of looking into lead pipes or polluted rivers, the governor is focusing much of his investigation into the Lloyd Aquifer, Long Island's deepest and most pure source of freshwater, which pours into the lawns and faucets of some of America's wealthiest suburbs. The same aquifer that was at the heart of an intense environmental debate two summers ago in the town of Lake Success, a hometown mystery Silica has been trying to unravel since earlier this fall.
The first time we visited Lake Success, in Nassau County Long Island, it was an unseasonably warm afternoon in late November. The 1.9 square-mile suburb, perched atop a glacial moraine on some of the highest land in Long Island, is one of nine villages that make up the larger town of Great Neck. Sixteen miles from the heart of Manhattan, the village of Lake Success is bordered by the roar of 210,000 vehicles passing a day on the Long Island Expressway, two golf courses, a massive 6,000 student strong public school complex and a variety of industrial and commercial buildings. In the town's center, lies a 75-foot deep, 1.9 mile long natural blue kettle lake, gouged out by glaciers during the last ice age.
There is no hunting, swimming or fishing allowed on Lake Success, despite the fact that it is surrounded by multi-million dollar homes, high rise condos and Fresh Meadow Country club, the main municipal golf course for the town. According to the latest census reports, more than 33,000 residents flank the natural reservoir, which sits atop Long Island's main water supplies: the Magothy and Lloyd Aquifers.
The only thing we could find within its crystal clear waters that day was litter, cigarette butts and a few dozen canadian geese. To get there, we had to sneak our way through an unlocked gate off a busy road. From what we could tell, Lake Success has no public access. We stood there on its shores for a few moments, trying to figure out where to head next.

Long Island is one of just 13 regions in the United States dedicated as a "sole source aquifer," meaning that 100 percent of the area's drinking water comes from underground wells. In pollutive terms, that's 3 million people, living in a highly concentrated area, pouring lawn fertilizers, household chemicals, pharmaceutical drugs and untreated septic tank waste into the ground, right where the water comes from.
The long-term effects of pollution all through the state in many ways is now making itself visible in ways that we have never seen before Governor Andrew Cuomo
On top of historic over-development issues, Long Island also has a long history of industrial pollution and ecological destruction. This untold history includes an array of city landfills, World War II aerospace manufacturers, chemical factories and dry cleaners, which poured heavy metals and cancer-causing volatile organic compounds (a.k.a VOCs) into the ground, unchecked, for almost the entire first half of the 20th century.
"The long-term effects of pollution all through the state in many ways is now making itself visible in ways that we have never seen before," said Governor Cuomo in his recent announcement to study and improve water quality across the state. "The geography of the island itself and they way the aquifers run, it makes the island the most environmentally sensitive part of New York" he added.
And in the midst of this toxic history lies Lake Success, and its nearby Unisys superfund site, which are currently the focus of a $32 million cleanup plan mandated by the New York State Department of Conservation. The DEC's goal is to help eliminate a toxic plume that has been infiltrating the groundwater supplies in and around an industrial property located at 1111 Marcus Avenue since the early 1940s.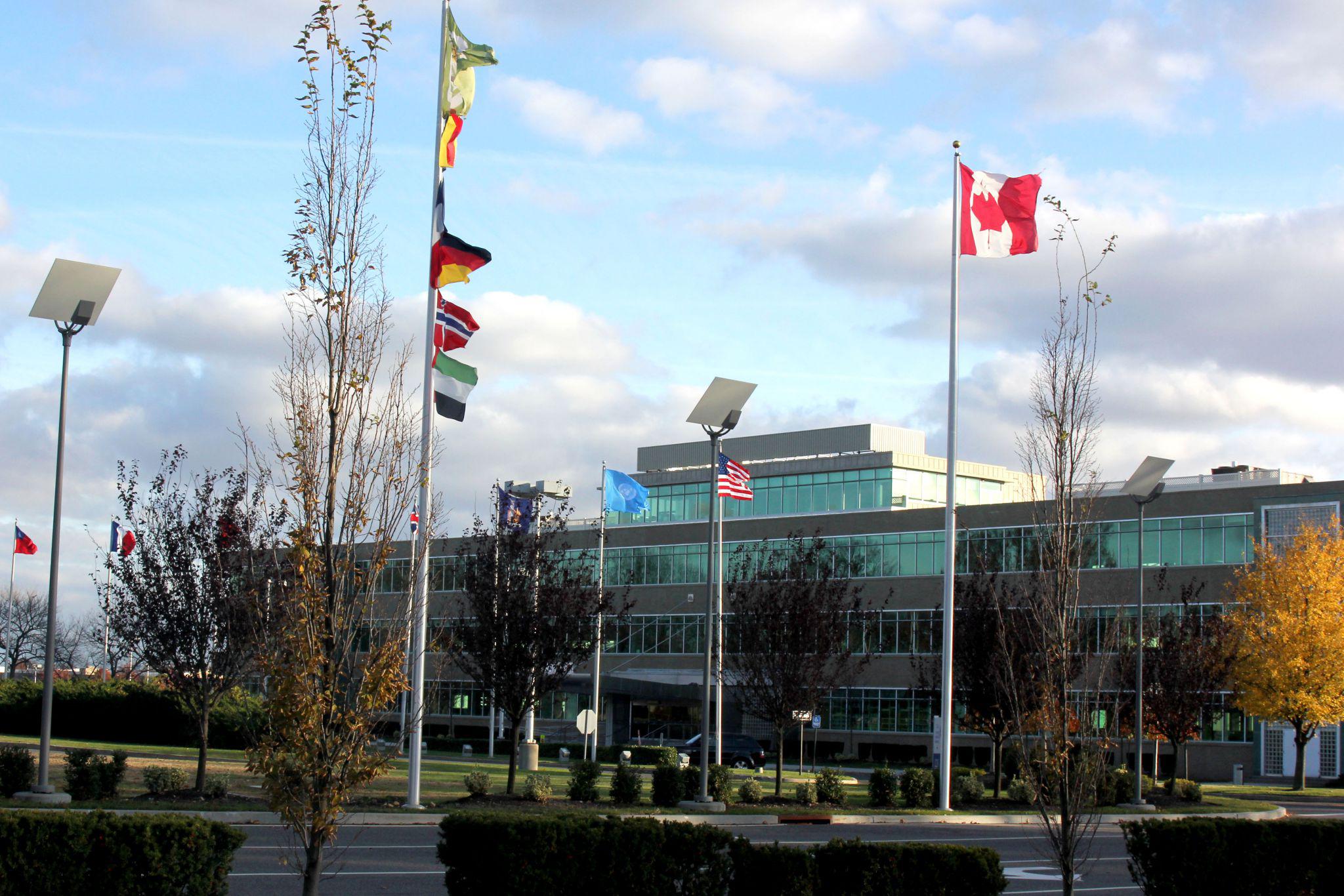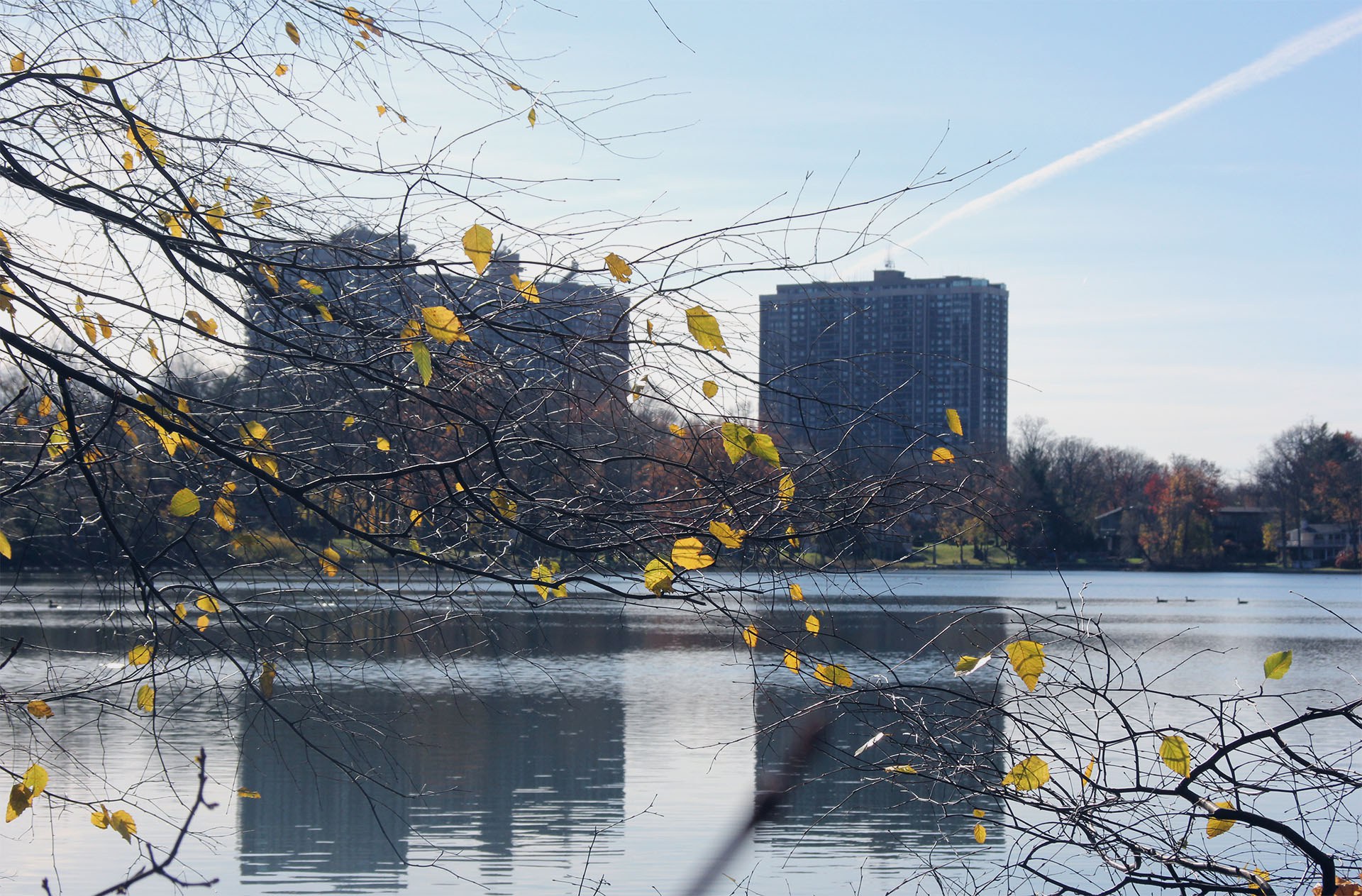 Today, 1111 Marcus Avenue, which sits about a 20 minute walk from the waters of Lake Success proper, is topped by a 1.5 million square foot multi-tenant office park, some soccer fields and Long Island's first medical marijuana dispensary. Below it sits a three-dimensional mass of toxic waste about 1000 feet wide, hundreds of feet deep and thousands of feet long. The pollution is a result of a weapons manufacturing plant built by the U.S. government, used Sperry Gyroscope, the Loral Corporation, Lockheed Martin, and the United Nations, among others, from 1939 until 1998.
According to historical records of the site, until environmental precautions were mandated at the property in 1978, most of the factory's leftover chemicals and wastes, including halogenated solvents, cutting oils, paints and fuel oils, were dumped into five drywells located on the southeast corner of the site. Slowly, but surely the chemicals seeped into the groundwater, soil, sediments and soil vapor below. In 2001, the DEC's then regional director, Ray Cowen predicted: "In fifteen years, the plume, if untreated, will move further north and would contaminate well fields operated by the Manhasset-Lakeville and Great Neck Water authorities."
By 2011, a Village of Lake Success Planning Board study found that Cowen's predictions had already happened. Less than ten years after the warning, subterranean gases, potentially cancer-causing VOCs and contaminated groundwater started coming up from the ground beneath North Shore LIJ's Center for Advanced Medicine, a site that offers mammography, radiology and other oncology treatments.
Today, soil studies show that the toxic plume has reached into an area of more than 900 acres in the surrounding area, and continues to spread toward civilization and freshwater supplies in a north/northeast direction.
It's 3pm on a saturday and we're walking across carefully manicured lawns and empty parking lots that line the massive corporate complex at 1111 Marcus Avenue. Even though it's late November, rosemary, thyme, tomatoes and bell peppers attempt to grow in a small, makeshift victory garden a few rows of cars away from the headquarters of Hain Celestial, distributor of "natural" and "organic" teas for the greater Long Island area.
Less than 200 feet away is the superfund site's main groundwater extraction pump. We approach a chain link fence surrounding it and hear the roar of 850 gallons of contaminated water per minute being pulled from the ground beneath us. Across the way is a soccer field where uniformed eight and nine year old girls are facing off in their weekly match. Their parents look on, cheering. Although all of the facilities hinting at the wastewater plume beneath us are tightly locked up, surrounded by warning signs, all seems serene. Almost boring. A lazy suburban saturday.
In the early 2000s, the DEC reported that the place we're standing on right now "represents a significant threat to public health or the environment." The site's pollution was first discovered in the 1970s. Findings included volatile organic compounds, or VOCs, chemicals beneath the ground which transform from liquids to gases at room temperature. Diclorothene (DCE), trichloroethene (TCE) and tetrachloroethine (PCE). Freon 22 and 113. Chemicals that, in high enough concentrations, have been linked to liver and kidney cancer in animals, as well as skin irritation, heart damage, drowsiness, nausea, fatigue and depression in humans. Today, the exact quantities of these VOCs at the 1111 Marcus Avenue site remain unknown. Their only sign? A sweet aroma that seamlessly blends in with the smells of the highway, lawn fertilizers and car smells around us. Beneath our feet, the soil is full of heavy metals like copper, barium and cadmium, further remnants of its industrial past.
Today, Lake Success' drinking water needs are served by the Manhasset-Lakeville Water District, one of more than three dozen water fiefdoms in Nassau County that draw directly from the underlying Lloyd and Magothy aquifers. The districts are controlled by a hodge-podge of different organizations, a mix of municiple districts, special commisioner-run districts, private corporations and water authorities, that are all run on separate deals and management systems. Manhasset-Lakeville is in control of 18 different wells, placed at 13 sites in a 10.2 square mile area. Of these, nine wells are currently being treated for harmful VOCs. And several of them are pulling up and treating water from the Unisys site's toxic underground plume.
In 1996, Lockheed Martin purchased the superfund site on 1111 Marcus Avenue, taking full responsibility for its cleanup. By 1998, the New York State Department of Health mandated the industrial manufacturer start taking steps to "reduce, control or eliminate, to the extent practicable, the contamination of soil on the site," to attain safe water quality standards across the area and, once again, "to the extent possible" prevent the spread of contaminants to nearby surface, groundwater and indoor environments.
Lockheed Martin put out a comprehensive "fact sheet two years ago about what they've done since then to remediate the toxic site. To give them credit, it's been a monumental cleanup to organize and manage.
According to the document, in 1998, Lockheed Martin removed 800 tons of contaminated sludge from three on-site dry wells, digging down 30 feet deep to help remediate the site. The corporation also installed a soil vapor extraction system beneath the site's main buildings to remove harmful VOCs from the air. The property also underwent a series of "environmental easement" strategies at the time, in which Lockheed Martin essentially limited the use of 1111 Marcus Avenue's most contaminated areas through physical barriers, danger signs and deed restrictions on the land.
Treated water is not the same as clean water Adrienne Esposito
From 2001 to 2002, the corporation installed a permanent groundwater treatment system to "prevent further movement of the plume away from the site" as well as an interim pump on a nearby golf course in 2004. In 2008, two more sub-slab soil vapor extractors were installed on the superfund property. However, until two years ago, no off-site efforts to contain the contamination in Lake Success' surrounding communities were ever made.
It's now mid-winter in Brooklyn, New York and we're trying to figure out whether or not a new $8.6 million water treatment system to help contain the Unisys plume has been turned on in the town of Lake Success. Here's what we do know: The new pumps are part of a $32 million plan put out in 2014 by the New York State Department of Conservation, mandating that Lockheed Martin pick up the pace on its Unisys superfund cleanup. At the time it went through, the plan called for the construction of three more on-site extraction wells to help remove polluted water from the ground, an update to Lockheed Martin's prime groundwater remediation system to pump an additional 120 gallons of toxic water per minute and improvements to on-site soil vapor extractors and fenced-off basins that collect toxic runoff from the site's parking lots, roads and building roofs.
The plan sounds like progress to the inexperienced environmentalist. But according to a 2013 report by the Huntington Buzz, Lake Success locals have not been happy with Lockheed Martin's latest remediation plans since negotiations on them started three years ago.
Looking into the specifics of the agreement, it quickly becomes apparent why. Under the new remediation plan, Lockheed Martin is apparently paying local water districts between $10.4 and $12.95 million to use their water treatment facilities to clean the Unisys plume, instead of building separate extraction wells for the contaminated water. The money and time-saving agreement is one of the first of its kinds in the country, effectively breaking existing protocol of building separate treatment facilities for pollution cleanup and local drinking water supplies.
"Treated water is not the same as clean water," said Adrienne Esposito at the time, executive director of a local group called Citizens Campaign for the Environment, which helped lead the 2014 public outcry against the plan. "The public pays again and again with its health for every glass of water, because once groundwater is contaminated and needs to be treated, it's no longer clean."
"I think it's a cheap remedy and a cheap way out," said one local resident at one of two public hearings the DEC held about the Unisys cleanup in the summer of 2014.
Efforts to reach out to the DEC, the Lakeville-Manhasset Water Authority and to the Lockheed Martin Corporation about the specifics of this agreement have gone repeatedly unanswered.
As of now, the public water supply in Lake Success, Long Island still meets standard drinking standards. The Lockheed Martin corporation will be required to pump out almost 70 million gallons of contaminated water every year from the ground beneath its corporate i.park for the next three decades to help contain the pollution of the past. After that, the corporation is only bound by a "good faith agreement" that all parties involved with the cleanup today will sit down and discuss "where they are then" to address the Unisys site pollution. But with no legal requirements, those talks seem doubtful.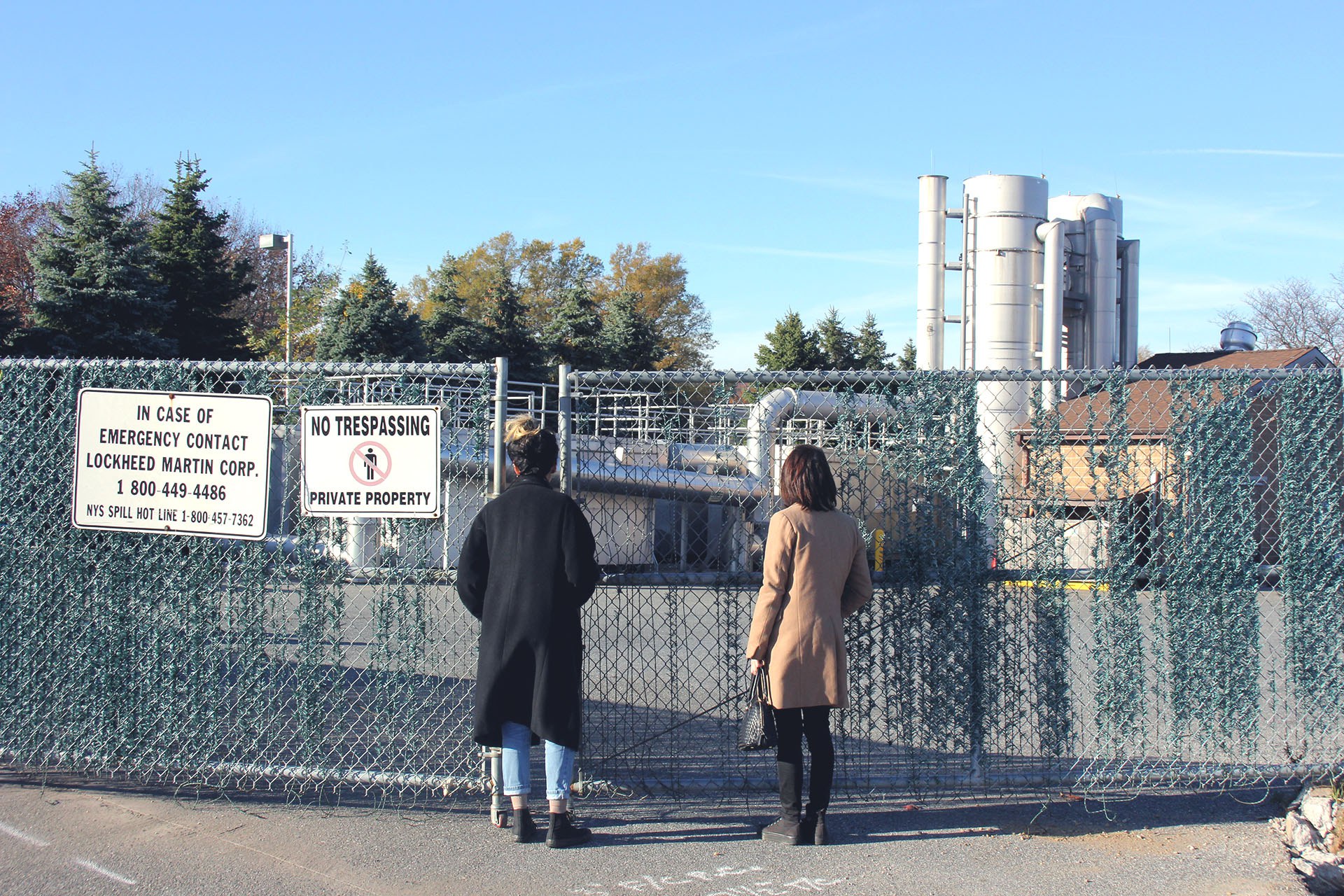 As of now, the public water supply in Lake Success, Long Island still meets standard drinking standards. The Lockheed Martin corporation will be required to pump out almost 70 million gallons of contaminated water every year from the ground beneath its corporate i.park for the next three decades to help contain the pollution of the past. After that, the corporation is only bound by a "good faith agreement" that all parties involved with the cleanup today will sit down and discuss "where they are then" to address the Unisys site pollution. But with no legal requirements, those talks seem doubtful.
Local residents who have opposed the cleanup since 2013 have been told repeatedly that the feasability of their alternate plans to help protect the groundwater and underlying Lloyd aquifer were "impossible." The official DEC health assessment of the 1111 Marcus Avenue site still reads, in a similarly dismissive tone,"It is not likely that people will come into direct contact with soil contaminants because the majority of the site is covered with buildings and pavement."
However, perhaps Cuomo's new investigation into the Lloyd Aquifer and its surrounding freshwater wells will help enliven the debate over Long Island's hidden water crisis. New insights into the exact volume of the reservoir beneath the bustling suburban metropolis, the direction its waters are flowing, and the concentrations of pollutants from sites like Lake Success and its 253 superfund sisters on the Island could help enliven new solutions and actions on crucial environmental efforts in the region.
Casey is a writer and strategist living in New York. In 2016, she co-founded Silica Magazine and is now our editor-in-chief. When not slinging lines in the agency world, she writes for Engadget, SYFY, VICE, Campaign, Bustle, POZ, and others–– examining unexpected waypoints between science, tech, and creative expression.
Illustrations by Evander Batson.