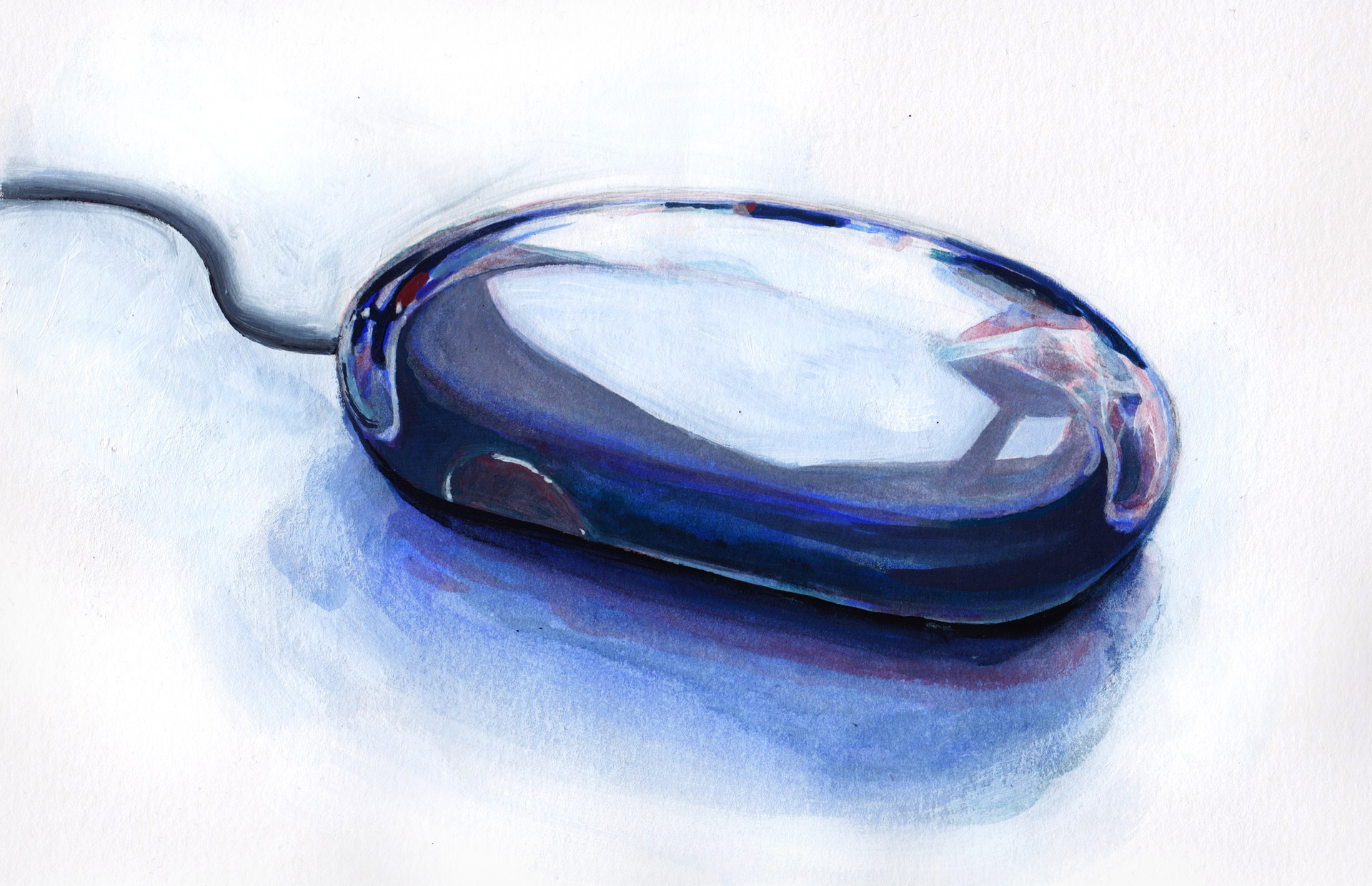 The Critter Issue
To a Computer Mouse
Oh tiny sleekit clicking bubble
Forgot in generations' rubble
Your back in squares divided double,
I used to use you.
You crept across with little trouble.
A shining page view.

But now you're broken, limp and dusty,
And buried in an attic musty.
You're obsolete; no one is lusty —
Invented, cast off.
In strangling tail, abandoned thusly
Your unheard coughing.

And your successor has some flair too:
More sleekit, silver, tailless, square too.
You see, we bred it out (that hair too).
He's docile, frozen.
We squisht him thinly, built-in lair too,
He's flat, and chosen.

So here's the thing, my little mouselet,
Your nimble paws, I'm willing to bet —
Though once we cleaned them, dried them when wet -
Are tired and done for.
You served your time as tool, paid all debt.
Your tour is over.

But we have miles to lumber, heigh-ho
We die and die and die and die so
Our children learn what we cannot know.
But you are sterile.
Escaping from this endless tarot
While we stay feral.

O little mousling torn asunder,
Your breedy dreams we steal; we plunder.
We needn't you no more. You wonder,
What could I have done?
But nothing would have spared you. Hunter,
With arrows, handgun.

But now you'll grow a nation quiet,
A radicant, oh tangled riot.
Of rubber mouse tails, compost diet
So nutrient dense.
A rat king blooming, who would buy it?
Planned obsolescence.

Mus musculus, your time is over.
Return you now into the clover.
Bucolic living as a rover
With fuzzy brothers.
You're pied, you're helpless, we the drover.
There will be others.
Lauren Ellis Matthews is a writer and strategist. She grew up in California.
Adapted from Robert Burns' 1785 poem "To a Mouse, on Turning Her Up in Her Nest With the Plough"
Art by Shannon Lee for Silica Magazine.